January 2, 2019
Market Update & Outlook for 2019
Earnings and economic data remained positive in the U.S. throughout 2018, posting an annual growth rate of 3.4% as of September 2018.  Global growth began to slow in late spring of 2018, but still posted a 1.6% growth rate for the Eurozone and approximately 6% for China.
Despite the backdrop of strong economic data, 2018 experienced widespread negative market performance that hit virtually all asset classes except cash and short-term Treasuries. (see table below)  The dismal performance from both US and global stocks, bonds, real estate and commodities in 2018 was a result of slower US and global growth, rising interest rates, rising debt levels, significant policy errors from the US, China and central banks, and overly optimistic and unrealistic expectations by investors who pushed valuations too high for earnings to keep pace.  While the growth was expected to naturally slow in 2019, 2018's problems were magnified by significant policy errors from the Fed, China, Trump and what seems to be a dysfunctional US government.  All put together, this made 2018 one of the most challenging years for investing in recent memory.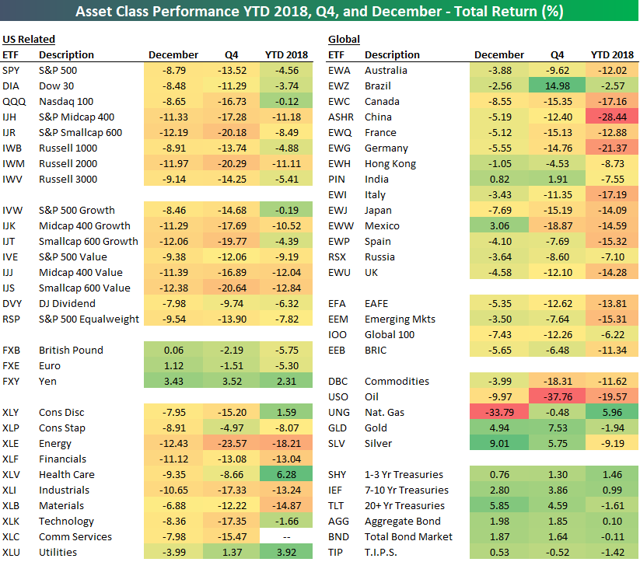 The Fed
The fed took a too hawkish approach at the end of 2018, even when their mandate had been met with unemployment below 4.5% and a 2% inflation rate.  Despite this, the Fed raised rates in December for the fourth time in 2018 along with the rhetoric of future hikes in 2019.  This was simply too much for the market to handle given the back-drop of heightened volatility, trade wars, rising interest rates, slowing global growth, rising US Dollar and diverging monetary policy from the ECB and BOJ.  Moreover, the Fed continually switched their path on future monetary policy from "data dependent" to "auto-pilot", confusing investors and causing the markets to crash at the end of the year.  Since markets crashed after the latest hike in December, I believe Powell, Chairman of the Fed, got the message he needs to a) re-iterate their data dependent metric and b) incorporate a holistic view that is more sensitive to capital markets rather than basing rate hikes on a pre-determined path and only looking at unemployment levels and a variety of inflation metrics.  Since the Fed hiked the rate to 2.5% in December, it is highly unlikely for another rate hike in the beginning or middle of 2019.  The earliest possible date the Fed could hike would be October.  However, it is also likely there will be no rate hikes in 2019.  This break in rate hikes will likely allow the economy and markets to re-adjust to the 2.5% Fed Funds rate and allow the stock market to head higher.
China
Besides having China's economy slow more than expected in 2018 and causing Chinese stocks to fall, the Chinese government also made the problem worse by making policy errors that caused markets to sell off further.  For example, the Chinese government had an unorganized and delayed response to IP theft reform, reduction of the trade imbalance and the opening up of their markets to foreign companies after Trump enacted tariffs and threats of future tariffs.  In addition, China implemented regulations that hurt technology companies, specifically tech giant, Ten Cent, and other gaming companies, by pulling Ten Cent's blockbuster game, Monster Hunter, as well as other games, from shelves because they didn't represent "communist values".  This, along with the fears of future regulations across the industry, caused Chinese tech stocks to continue to fall.
Trump
Trump's aggressive stance of trade was a bit over-the-top for even hardliners and certainly caused markets to fall starting in summer 2018.  Trade negotiations only got worse until finally, the two countries came to a temporary agreement at the end of November, but by this time most of the damage was already done.  The uncertainty of future tariffs and their effects, along with The White House refusing to acknowledge the trade war, and future threats of additional tariffs, had a negative effect on markets caused investors to question the White House's credibility, pushing markets further down.
Dysfunctional Government
Another contributing factor that caused poor market performance in 2018 was the government's inability to agree on needed policy reforms, such as immigration and border security.  Government shut-downs, as well as the blotched hearing for supreme court Bret Kavanaugh, gave investors much to worry about as they experienced a steep loss of confidence in Congress and the White House's ability to govern properly.
Is the Party Over?
Was 2018 the peak of the post-recovery cycle from the great recession or just another re-set in asset prices similar to 2011 and 2015?  Will the long-term upward trend continue or are we entering a multi-year bear market?   We are no doubt in the last stage of one of the longest recovery periods in modern history, but is there more room to run?
Properly navigating through the latter innings of a major business, credit and market cycle is challenging for even the most seasoned investor.  However, despite heightened volatility and the current unpleasant drawdowns, I believe a recession is not likely in 2019.  However, more downside may occur in the next few weeks before stocks bottom.  Or, stocks may find a bottom this week.  Certain emerging markets have already established a base and are heading higher.  It is likely that capital flows will reposition further into emerging markets and, eventually back into developed markets.  At that point, markets should begin to rally from their lows.
2019 Outlook
Lower earnings guidance for 2019 re-affirmed the fact that global growth is slowing, but I believe the stock market has fallen too far too fast and, at this point, we now sit below fair market value.  Therefore, I believe markets will slowly push up from current levels and may even hit a new high by the summer of 2019.
I see a stock market recovery in 2019 that is led by Brazil and other Latin American countries as well as other emerging markets, including China, eastern Europe and southeast Asia.  Brexit, which is scheduled to take effect in March, is a looming threat to the Eurozone. However, it is possible that European stocks could also see a rebound in 2019 as valuations haven't been this attractive for many years and growth, albeit at a slower rate, it still expected to continue at or above 1.5%.
Back in the US, I believe markets will recover at least until the summer of 2019.  A slight dovish tilt in monetary policy from the Fed, ECB and the BOJ could propel markets forward and better than expected returns for stock investors for 2019.  In conclusion, I do not see a black swan at this point in time that would cause the markets to crash further.  It is more probable that the economy and markets push forward in 2019 and possibly into 2020 extending the current business and market cycle for another year or two.
The good news is that I believe equities and commodities are likely to rebound in the first half of the year.  However, the bad news is that investors are still faced with many challenges in 2019, including the possibility that the economic, credit and stock market cycle may have finally ended or will end in 2019 and a recession may be near.  2020 is also an election year which will add additional uncertainty towards the end of 2019.  In addition, we are also likely to see the yield curve invert sometime in the middle of 2019, which is a sign that investors are moving towards safe-haven investments, such as short-term Treasuries, as investors expect a recession may be possible in the near future.
The US Dollar is likely to peak in 2019 and begin a slow and steady long-term trend down as deficits and US debt continues to build to unsustainable levels while growth slows.  As the US dollar fades and fears of stagflation become widespread, likely at the end of 2019 or in 2020, gold may continue higher and break-out of a flat trading range it has experienced over the last several years.
Investment Considerations
2019 will likely prove to be a pivotal year for strategic, long-term asset allocation adjustments.  Investors need to consider the possibilities that we will soon be at the end of the expansionary cycle within one to three years and plan accordingly.  Hopefully, we are not there yet and with the correct monetary and government policies, global markets could easily continue higher for another few years.  After this cycle ends, we will likely begin a stagflationary period that could last many years or even a decade or more marked by slower growth and inflation that rises slowly but steadily.  In other words, stock market returns are expected to be much lower over the next ten years compared to the last ten years.
If the market does rebound and reach new highs in 2019, prudent investors should move to cash and treasuries and wait to see how policy-makers will react in 2020 and beyond, as well as re-evaluate economic growth conditions.  Aggressive investors should plan a strategic allocation to short growth equities and high yield credit at the end of 2019 and into 2020 if a recession looks to be on the horizon along with a deteriorating economy.
Alternative investments, shorter-term investment grade bonds, senior-secured loans and certain asset classes within real estate are likely a smart and safe place for long-term income-oriented investors.  Additionally, despite a potential recession in 2020 – 2023 and an end of an expansionary cycle in the US, many opportunities will still exist within the US and globally.  While 2008 gripped the entire global market all at once, the end to this cycle will likely be much more fragmented, still presenting many opportunities for gains.  Additionally, we are in the midst of a second technological revolution globally.  Therefore, high quality, value-oriented and well-run companies and sectors that have outsized growth potential and are currently disrupting the markets with innovative technology will be a solid investment strategy for long-term investors.  And, when these high-quality stocks and sectors become oversold, which some currently are at the moment, it will likely prove to be an excellent buying opportunity.